Christmas Flower Ideas
Are you looking for a plant, wreath or bouquet to use as a centrepiece or give as a present this Christmas? Allow us to help you decide by highlighting the top Christmas flowers here at Clapham Flowers.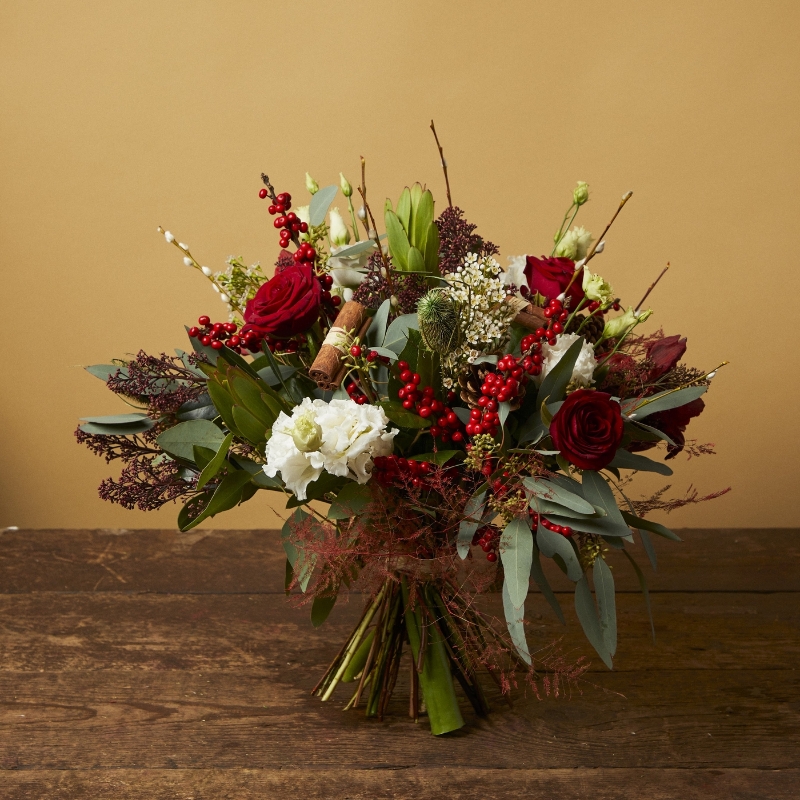 Traditional Christmas Bouquet
What better way to welcome the holiday than with a bouquet of flowers featuring a mix of the season's most popular colours? The red of the flowers, the green of the leaves and the beautiful smell that comes from the cinnamon sticks included, all combined to create a floral arrangement perfect for the occasion. Carnations, roses and winter alstroemeria are wonderfully arranged by our florists as well.
Jeannie in the Winter
The combination of colour in this bouquet is truly eye-catching. The pastel colour roses and the beautiful dehydrated limes are just a visual treat. Everything is beautifully completed by red ilex berries and Christmas foliage. The celebration of Christmas is one full of cheer which is exemplified in this cracker of an arrangement! Click on the image for more details.
White and Gold Winter Wonderland
So what better way to welcome the holidays than by adorning spaces with this white Christmas flower bouquet? Not only do they make lovely centrepieces, they are equally great to give as presents to loved ones.
The Chris Rea
Christmas ilex berries, pine winter foliage, pine cones, cinnamon and apple sticks make for a magical Christmas wreath. Great for use as a decorative element during the holidays or sent as a gift, the Christmas Rea is vibrant and is able to evoke holiday cheer.
Winter Wonderland - Table Arrangement
The inspiration behind this piece is the many festive decorations seen during this time of the year. The result is a stunning table arrangement full of traditional holiday colours as well as holiday items. The table arrangement is filled with white roses and cinnamon sticks which are then surrounded by green pine and foliage and highlighted by gold elements.
Fireplace
The indoors is not the only area ripe for the placement of decorative elements. Why not adorn your fireplace with this stunning fireplace garland? Consisting of pine cones, gold berries, cinnamon sticks as well as pine and evergreen, this garland Christmas cheer to anyone who enters your lounge.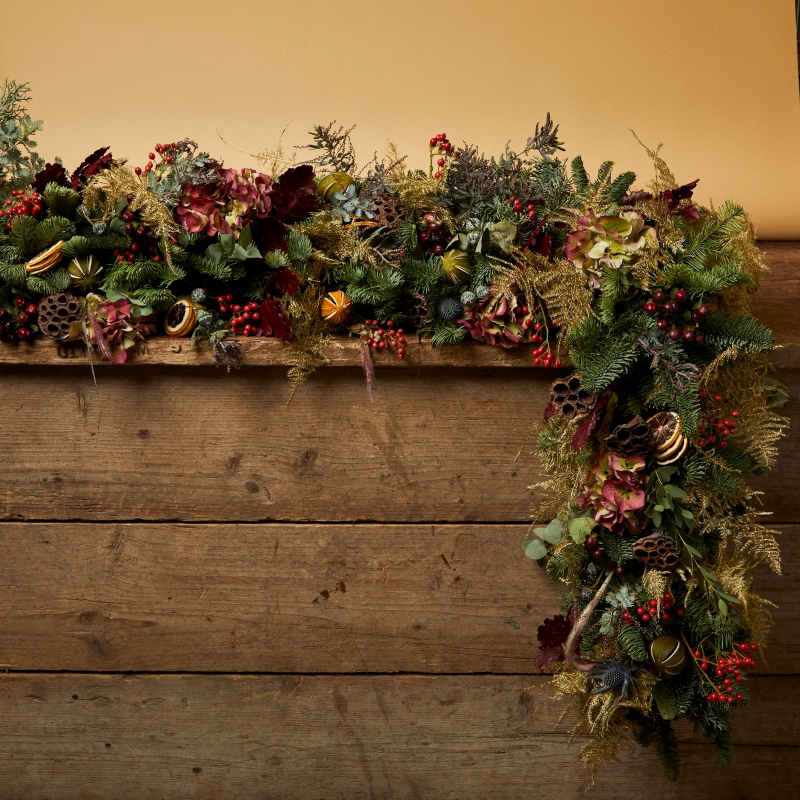 Christmas is only a few days away, so get those orders in before it's too late! We deliver across Clapham and London.